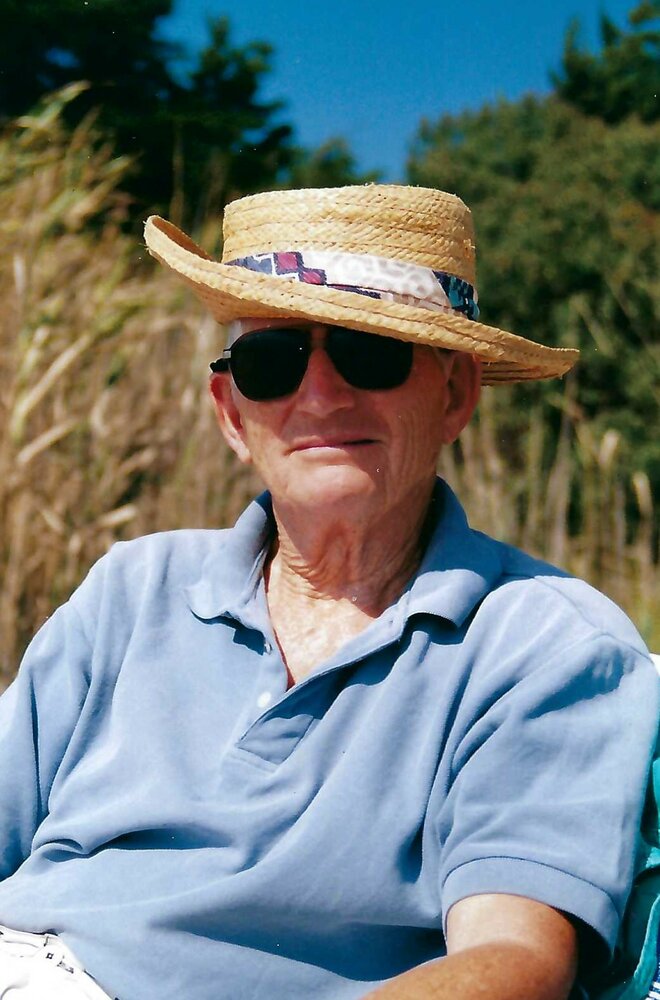 Obituary of Stephen Kenneth Sullivan
Please share a memory of Stephen to include in a keepsake book for family and friends.
Stephen "Kenneth" Sullivan, 91, of Little Egg Harbor, N.J. passed away on Thursday, January 13, 2022, after a brief illness. Ken was predeceased by his cherished grandmother, Elizabeth Kemme; his parents, Stephen, and Anne Sullivan; and his son, Robert Kenneth Sullivan. Ken was born in Englewood Hospital and resided in Palisades, N.J. until he was two years old. He then moved to Brooklyn with his parents and grandmother. They ran a rooming house for fifteen years during the Great Depression and WWII. When Ken was 17, they relocated to Grant Avenue in Cliffside Park where Ken completed high school. He followed in his father's footsteps and became an apprentice with the International Brotherhood of Electrical Workers, Local Union #164. In less than a year, he was drafted into the U.S. Army. He served as an electrician for his company in a U.S. Prisoner of War Camp in Korea. He served for two years from 1952 to 1954 and was honorably discharged. He returned to Cliffside Park and resumed his apprenticeship with Local #164. Ken's active career as an electrician spanned forty-one years. Ken was thrilled with his time as an electrician. He took pride in his work. He earned a reputation as a fine craftsman who demanded excellence of himself and his workers. He was most proud of his job at the International Headquarters for Becton-Dickinson in Franklin Lakes, N.J., where he was the foreman of 80 men. There were over 316,000 square feet in the building, and it took several years to complete the job. Ken described that "When they flipped the switch, everything worked!" This was typical of any job that he did due to his diligence, work ethic, and meticulous attention to detail. As a retired member of the Local, Ken always appreciated the camaraderie and companionship of his "brothers". Highlights of their times together included bowling leagues, golf outings, and the much-anticipated yearly dinner dance and annual picnic. When Ken was 51, he met the love of his life, Dorothee Sonnet. They have enjoyed a marvelous partnership for the past 41 years. In 2012, they married. Ken often remarked that Dorothee was "the best thing that ever happened to him". He felt so fortunate that Dorothee expanded his horizons as they traveled to Europe, Alaska, many U.S. state parks, and their favorite getaway, Mexico. They enjoyed a beautiful and full life together in their home on the lagoon in Little Egg Harbor. Ken was best known for his kindness, his penchant for long stories, and his boundless generosity. He was completely dedicated to his family and his friends. He loved spending time with his grandchildren and was an enthusiastic participant in all their activities. His grandchildren described that their "Grandpa" always had a "sparkle in his eye" and such a keen curiosity about their lives, and their hopes for the future. He made many memories with them including Assateague vacations, Christmas sing-a-longs, ornate ginger-bread houses, Eagle Scout projects, and stained-glass tutorials. His granddaughter recalls the time he coached her from afar when she lived in a remote village in South Africa as to how to rewire the electricity in the rondavels so that they would not catch fire! His daughter recalls him as her very best supporter and cheerleader who always made sure that she had whatever she needed. She learned many life lessons from him including the importance of family, the need to let things go and be open hearted, and how to work hard. Ken reflected often on his good fortune of acquiring a wonderful "second" family when he met Dorothee. He loved them with the same degree of enthusiasm and dedication that he loved his first family. He joyfully spent time with his sister-in-law, her husband, and her family. He bragged often about his two nephews and his niece. He especially spoke at length about how honored he felt to attend "Grandparents Day" when they were in elementary school. They shared many special times together at Nickerson State Park and Camp Jewell. One of his nephews from Alaska remembers making origami box lanterns with him and recalls his gracious demeanor. Perhaps the most inspirational quality of Ken's was his incredible attitude of thankfulness. He was a humble man who appreciated everything he had. He rarely complained and always tried to see the best in people. Despite significant hardships in his life, he observed often that he was "a lucky man" and that he had everything he ever wanted. In the last week of his life, he reflected that it was so necessary to tell the people you love just how important they were to you. He sentimentally described that he tried often to let people know how much they mattered to him. If you were loved by Ken, you certainly knew it. He was so loved in return and will be sorely missed by many. He is survived by his beloved wife, Dorothee Sonnet; his daughter, Nancy Ference, son-in-law, Tom; grandchildren, Brendan, and Charlotte Ference; His sister-in-law, Norma Neumann-Johnson and her husband, Fred La Rose; his brother-in-law, Doug McLaughlin, and his wife Betty; several favorite nieces and nephew including Afton Gilyard (Will), Blake Johnson, Arlo Neumann, Doug McLaughlin Jr. (Wendy), Beth McLaughlin (William O'Connell), and great-nephews and nieces -William, Max, Saron, and Ivy. Ken also had a special place in his heart for his cousin, Regina Clayton and his godchild, Diane Passaro Lane. To continue Ken's legacy of love, you can make a memorial donation to the Little Egg Harbor Library, (290 Mathistown, Little Egg Harbor Township, N.J. 08087) or Good Shepherd Lutheran Church (500 Mathistown Rd., Tuckerton, N.J. 08087). You can also feel free to tell someone just how much they mean to you or do something kind for someone. Services will be held at a later date at the discretion of the family.
Share Your Memory of
Stephen
Who We Are:

Polhemus Cremation Services is a cremation funeral home conveniently located at 203 Main Street (Rt. 9) in the historic town of West Creek, New Jersey, providing professional and affordable cremation funerals offering appointments in the comfort and privacy of your own home.

Our Location:

Polhemus Cremation Services
Richard M. Polhemus, Manager
NJ Lic. No. 4000

203 Main Street
West Creek, NJ 08092
Phone: 609-294-8000
Fax: 609-294-8001