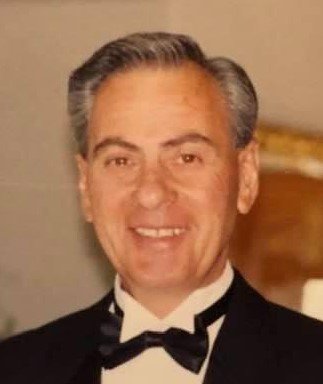 Obituary of Julius Perino
Please share a memory of Julius to include in a keepsake book for family and friends.
Dad aka (Daddy, Julius, Jul, Gramp, Grandpa, Great Grandpa, Papa, Uncle, Cousin and Friend) joined his bride Eleanor and got his wings. Separated from his wife in heaven for only six short weeks. Married September 15th 62 years ago and together since the third grade. The same Doctor signed their birth certificate only six months apart in the same hospital. "Talk about soul mates!" He was the wonderful father of Maria Orozco and Julius Perino Jr & Wife Lee Ann, Son of Joseph (Joe Beans) and Maria (LaLa), Cousin of Karen & Richie, John & Joyce, Grandfather of Brian,Tina Marie & Husband Chris, Julian and Tony. Great Grandfather also known as "Papa" to Landon, Charleigh, Truly Grace and Andee. He was the brother of Anthony (Andy) Perino & Wife Maryrose. He was the brother-in-law of Allie & Wife Joyce and Lenora & Husband Al, and Terry. He was the Uncle of Joseph, Christoper, Gloria Lyn, Nina Marie, Clair, Patty, Carl, Nicole, Margaret and Monica. He was proud to be an Italian American and Navy Veteran. FAMILY was his most cherished gift! As a Eucharistic Minister he valued the body of Christ. He was proud to be a 4th Degree Knight with best friend and Knight Vern & Wife Maryann. As Manager of the Water Authority he was also the Union President. He was a smart, outgoing, charismatic and an educated college graduate with the exceptional gift of public speaking. He was also the President of the Condo Association. He knew how to write and give speeches and sure knew how to get votes. In the early years he was always swimming laps in the pool and playing with his two children. He was very outgoing and made friends quickly. Some of his favorite pastimes were boating, buying new cars, fishing, traveling and playing golf. He even got a hole in one! He loved to dance with his bride and loved Benny Goodman, Glenn Miller, Frank Sinatra and Tony Bennett just to name a few. His favorite dessert: Crumb Cake or Crumb Cake ! Ha ! Steak, French Fries, Apple Pie, Ice Cream and Milk- were five items you couldn't get in the Navy. So when it was time for dinner we would ask what we were having and he would rattle off those items quickly. Ha! You could always find him with his best friend and lifelong companion- Mom. They did everything together. He was a sharp dressed man and very handsome. Of course Mom gets the credit for his attire! You would often hear him say "El-does this match?" If it didn't it was off immediately. She was the real boss. Ha! If you played trivia with him you had no chance. He knew his history and politics like no other. He was a huge fan of Bill O'Reilly and the Fox News team and wasn't afraid to say it. He loved to watch football the Broncos, Giants and Jets were his teams. He always made us laugh and held on to his Brooklyn accent, although he would tell others "YOU have an accent!" He would say; "Would you like some coffee? " Than he would say; "coffee-c o w f y - coffee" pronounced in brooklynese "kowhoa-fee"Ha! Dad gave great advice. He would say "This too shall pass." and "All you have to do is work hard In life." He was the most honest man you ever met ... and would tell it like it is. He was never afraid of saying exactly what he was thinking and sometimes Mom would "shush" him! Ha! But he was kind, loving and would do anything for anyone. Now the tears part; on a personal note- I couldn't have asked for a better Dad. He was my rock, my hero and a blessing. He helped me write my speeches, do homework and make the right choices in life. I was seriously- Daddy's Little Girl! He said he jumped over every fence in the neighborhood when he found out I was to be his daughter. He always told the story and got all choked up. He would challenge me to be the best I could be and taught me well! The strong person I am today is attributed to my Dad. He pushed hard and caught me when I fell. God blessed me in every way with both parents and the life I was given growing up. Dementia took our Dads brain as well as our Moms but it did not take their soul. Their soul lives in our heart forever and they are the strongest Angels above along with our grandparents. I look forward to the day I see them again! The Blessed Mother heard thousands of prayers from Dad, I'm sure he got a VIP seat in heaven to meet her. May the memories, quick wittedness, strength and humor live on through all he touched especially his family! God bless you Dad! RIP our two Angels! # Prayermatters
Share Your Memory of
Julius
Who We Are:

Polhemus Cremation Services is a cremation funeral home conveniently located at 203 Main Street (Rt. 9) in the historic town of West Creek, New Jersey, providing professional and affordable cremation funerals offering appointments in the comfort and privacy of your own home.

Our Location:

Polhemus Cremation Services
Richard M. Polhemus, Manager
NJ Lic. No. 4000

203 Main Street
West Creek, NJ 08092
Phone: 609-294-8000
Fax: 609-294-8001