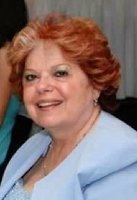 Janet Mazzie
~"We have loved them during life: let us not abandon them until we have conducted them by our prayers into the house of the Lord." St Ambrose
Special thanks to the staff of Grace Healthcare Services for providing comfort and peace in her final days.
Janet Mazzie, 76, of Jackson NJ, born in New York, passed away on Friday August 11th, 2017 after a long courageous battle with Parkinson's, dementia and kidney cancer surrounded by family in the comfort of her home in peace. She was born on October 6, 1939 in East Meadow, NY to Marie Costanzo (Backes mother) and Joseph Backes (father) from East Meadow New York, She is survived by Gerald Mazzie (beloved husband of 55 years), 3 children, sons Gerald Mazzie, Anthony Mazzie and daughter Gina Mazzie-Kownacky, son-in-law Frank Kownacky, 6 grandchildren Chanelle Gordon, Alexis Mazzie, Tiffani Mazzie, Anthony Mazzie, Daniel Mazzie, Gianna Kownacky, 3 great grand children Dereck Gordon, Ellyshia Gordon, Devin Gordon, her mother Marie Frechette, sisters Arlene Matteson, Marie Keith brother Mike Fisher, brother in laws Charles Matteson, Ed Keith as well as cousins, nieces and nephews. Preceded in death by her father Joseph Backes and oldest son Gerald Mazzie, Jr. Her biggest joys were being a devoted wife, loving mother and adoring grandmother. In lieu of a funeral there will be a celebration of the women she was (time yet to be determined).
My mind still talks to you, my heart still looks for you, my soul knows you are at peace.