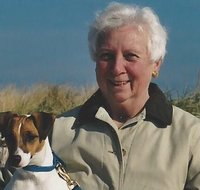 Gloria Anna Lehr
Gloria A. Lehr (Wasilewicz) 93, of Pine Beach, NJ passed away peacefully at her home on Wednesday, February 6, 2019, with her family by her side.
Born in Newark, NJ on January 17, 1926, Gloria has been a long-time resident of Pine Beach, as she began summering in Pine Beach with her family in 1936. Her family moved their home permanently to Pine Beach in 1951.
Gloria had a great love for Pine Beach and always referred to it as "her town". She loved talking about Pine Beach and the "yesterdays" and reminiscing about all of her fond memories. She loved "taking a spin" around town with her little dog Daisy in her blue station wagon and they were often seen walking the path along Pennsylvania Avenue.
Gloria enjoyed her yard and gardening and always took great pride in caring for her property. She was well known for her meticulous yard, for which she received many compliments. She took great pleasure in her gardens, her carefully stacked wood pile and keeping her property well maintained. Additionally, she was very creative and loved to sew, knit, crochet and make homemade quilts. She was so excited winning a blue ribbon at the Ocean County Fair for one of her afghans. Her quilts are keepsakes; each was cut, pieced, sewn, and quilted by hand. Once the quilt was completed, it was adorned with a special message. She was also a great cook and loved to bake, making delicious banana bread, pound cake, and homemade Polish bow-tie Kruschicki.
Gloria also enjoyed sailing on the Toms River and participated in the adult sailing program through Pine Beach Yacht Club in 1979 and again in 1994. Additionally, she loved sitting on the beach and enjoying the feel of the beach sand between her toes. She also loved both having and attending garage sales and exploring antique shops. She was excited when she found each treasure and cherished each one. She could remember each purchase, from where and when, and how much.
Gloria enjoyed spending time at the family's farm house in Colley, PA where she enjoyed the peace and solitude. One of her many pleasures was mowing the 40 acres on the Ford 1610 farm tractor.
Gloria was predeceased by her beloved husband Paul C. Lehr Sr in 1991. She was also predeceased by her beloved little Jack Russell "Daisy" in 2015.
Gloria is survived by her son Paul C. Lehr Jr and wife Kathy, Woodstock, GA., her daughter, Justine A. Saxton (Lehr) and husband James, Pine Beach, NJ; grandson, Paul C. Lehr III, Hood, OR.; step-granddaughters Megan and Brooke O'Donnell, Woodstock, GA.
A private cremation service was held at Polhemus Cremation Services, West Creek, NJ.
A Celebration of Life luncheon will be held by the family on March 23, 2019, 1:00 pm to 5:00 pm at 413 Riverside Drive Pine Beach, NJ.
In lieu of flowers, donations can be made in her memory to St. Paul Lutheran Church, 130 Cable Avenue, Beachwood, NJ 08722. (732) 349-0871