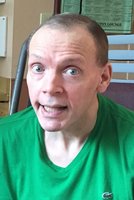 Joseph Paul Meyer
Joseph Paul Meyer, a loving and inspirational person to his family, friends and acquaintances, died peacefully on February 3, 2019 in Lakewood, New Jersey. He was 57 years old. The son of Theodore R. Meyer, Sr. and Emily B. Meyer (née Kohout), Joe is survived by his sister Marie Meyer and her husband Raymundo Morado, his brother Theodore Meyer, Jr., his sister Emilie Oberstaedt and her husband Mark, his nephews Patrick and Matthew, and his niece and goddaughter Melissa.
Described by his close friend Glenn as a quieter George Bailey, from the movie "It's a Wonderful Life," Joe's personal credo was "Life is a phenomenal gift and must be lived to the fullest every day." For Joe, this must have primarily meant demonstrating love and empathy for others, and his passion for life, in his words and deeds.
Joe was born on March 15, 1961 in Paterson, New Jersey, and he lived most of his life in his family home in Clifton, New Jersey. During his grade school years, Joe was a Boy Scout with Troup 121 at St. Philip the Apostle R.C. Church and School in Clifton. He attained the rank of Life Scout. Joe graduated from Paul VI Regional High School in Clifton in 1979, but not before he brought down the house (dressed in full drag) as King Herod in the school's production of Jesus Christ Superstar.
Later Joe earned a B.A. in Political Science in 1984 from Rutgers University, where he was a member of the Rutgers-Newark chapter of the Pi Sigma Alpha, the National Political Science Honor Society. In 1982, he enjoyed an education abroad program in London, England, where he had the privilege of interning for a member of the British Parliament and traveling around the United Kingdom and Ireland.
Much of Joe's work history reflects a person who was most comfortable helping people to resolve issues and problems. He held many part-time and summer jobs as a youth in Clifton, beginning with his help in Kohout's Bakery, owned by his uncle Frank, and assisted by extended family members. When the "bosses" were not looking, Joe could occasionally be found at the donut filling machine adding enough custard or jelly to make the donuts explode. Joe also worked with family as a farmer and lumberjack on the family farm in Vernon Township, where, over the years, they harvested fruit for pies, vegetables, and firewood.
During high school Joe worked as a mail room clerk for the Diocese of Paterson, a warehouseman for Dupont Photo Products, and a cook for The Grande Saloon, a beloved local watering hole.
Joe began his post-college career as a reservations supervisor with Four Winds Tours, in New York City, from 1984 to 1986. He then entered the rapidly growing cellular telephone industry as an agent relations manager and later office manager, for CELLCOM CORP./Electronics Communication Corp. in Fairfield, New Jersey and Woburn, Massachusetts, from 1986 to 2000. Joe then worked briefly with his cousin Tony in the flooring installation/restoration business before joining Barnes & Noble as a customer service representative from December 2000, until he was no longer able to work in 2007. During the Barnes & Noble years, Joe received a number of achievement awards for exceptional customer service. His niece and nephews eagerly anticipated the children's books Joe would buy them with his employee discount.
None of Joe's paying jobs was more important or appreciated than the role he shared with his brother Ted and sister Marie as they cared for their sick father in his later years.
When he wasn't working or helping others, Joe spent time enjoying music, traveling, and the company of family and friends.
Joe was a musician's musician. Not only did he play bass and guitar in various bands, including Foxfire which won First Place at the Paul VI Patriots Club 10th Annual Battle of the Bands in 1977, but he had an eclectic and varied taste in musical styles. He was a devout fan of The Beatles and David Bowie, but also attended operas, classical performances, jazz, Irish music festivals, Broadway shows, and concerts by performers such as Bruce Springsteen, Southside Johnny & The Asbury Jukes, Bob Dylan, Leon Redbone, Al Jarreau, The Chieftains, and his cousin Rich's band, LaBamba and the Hubcaps.
Joe jumped at any opportunity to travel. Thanks to his Four Winds employment, he visited Iceland, before it was in vogue, and Japan. In 1999, he vacationed at the home of his brother and sister-in-law Mariano and Carolina, in Cancun, Mexico with his Dad, siblings and nephews. Domestically, Joe spent many summers on Block Island with his friend Jack's family. Joe's last memorable trip, in Christmas 2012, was with his sisters and their families in New Orleans, where Joe both held and ate alligator for the first time and became a powdery mess (like everyone else) at Café du Monde.
No one celebrated St. Patrick's Day better than Joe. Beginning in 1981 and continuing for almost two decades, Joe and his friend Glenn annually visited bars on their "favorite holiday" and kept a running list of the establishments they visited, such as The Harp and Bard and Billy Lynch's Emerald Isle Pub. Their list also included some details of their celebrations, some of which understandably remain fuzzy.
Joe had many friends that he kept close to his heart. He remained in contact with buddies from his youth, even as he continued to make new friends at each stage of his life. He stayed in touch with people through letters and cards, saving every piece of correspondence. He remembered special occasions of his friends and their children with visits and gifts. He enjoyed and appreciated the company of others.
Joe's life and legacy are an inspiration to all, not the least his nephews and niece, to whom he passed along his love of music, books, travel, family, friends, and life itself. He will be greatly missed by them, as well as everyone who knew him.
Joe's family is forever indebted to individuals, too numerous to count, who provided support to our family and care for Joe. We are grateful for your reaching out to us with kind words, offers of help, gifts, and visits with Joe, whether in person, on the telephone or via video messaging. We will always enjoy fond memories of those who provided Joe's personal care, including persons from All Metro Healthcare, who visited the Meyer home, and the incredibly loving staff at Leisure Chateau, who provided care and comfort until he passed. We knew Joe was in good hands when his gentle disposition and sweet personality, mostly expressed through his eyes and body language in later years, made Joe a staff favorite, often leading his caregivers to fight over who loved "Joe-Joe" more.
A funeral Mass will be held on Saturday March 9, 2019 at 11:00 a.m. at Holy Eucharist Catholic Church, 344 Kresson Road, Cherry Hill, New Jersey. Immediately following Mass, friends and family are invited to a casual open house celebrating Joe's life at his sister Emilie's home located at 15 Old Town Road, Cherry Hill 08034 from 12:00 noon until 5:00 p.m. Visitors are welcome to come and go as their schedules allow. A separate celebration service and reception will be held on Sunday, February 24 at 1:00 p.m. at The Almond Branch Church & Resource Center, 184 Marshall Hill Road, West Milford, New Jersey, not far from the family "farm" that Joe loved to visit.
A small, private, burial of Joe's ashes will take place at Calvary Cemetery in Paterson, New Jersey the week of March 11.
If you would like to make a donation in Joe's memory, the family suggests that you consider the Huntington's Disease Society of America (HDSA.org).