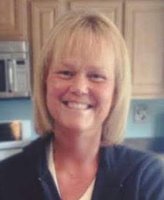 Mary Craig
Mary Elizabeth Craig, age 54, passed away peacefully on Saturday, December 8th, 2018 at Southern Ocean Medical Center in Manahawkin, New Jersey surrounded by family and loved ones.
Mary was born March 11th, 1964 in Orange, New Jersey to Leo and Leiva Craig. Mary was the 2nd youngest of eight children. From birth to death, Mary brought joy to family, friends and others whose lives she touched. Mary was a wonderful caring person who lived a selfless life, not only taking care of her father for many years, but also opening her home to family members, and playing a crucial role in raising her nieces and nephews.
She is survived by her family Gary Craig, Terry & Barbara Craig, Patricia & James Rokosh, Danny & Jean Craig and Peggy & Chuck Mazza; and her many nieces and nephews Gary Jr, Sean, Katie, Erin, Shannon, Patrick, Casey, Joseph, Rachel, Andy, Shelby and Baby Leo.
Your loving family will miss you greatly.
A celebration of life will be held in Mary's honor on Sunday, December 16, 2018 at 2:00pm at the Lighthouse Alliance Community Church, 455A Route 9, Little Egg Harbor, NJ 08087.