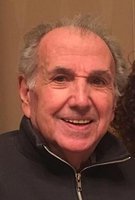 Mario Bruttaniti
Mario Bruttaniti, 86, of Galloway Township passed away peacefully on December 1, 2018. He leaves behind his cherished wife of 63 years, Ann Bruttaniti and children Debra Marchesano and her husband Frank and Patricia Kerekes and her husband Kenneth. Mario was the loving grandfather of Nicole, Michael, Jonathan and Anthony.

Mario was a proud Navy Veteran. He was a twin to predeceased brother Salvatore Bruttaniti and an older sister, Connie Golembeske.

He would often say he had a good life with no regrets.
Your loving family will miss you greatly.


A celebration of life will be held in Mario's honor on December 15th at 2:00 pm at I'll Giardino Restaurant - 2 Hollywood Blvd., Forked River 08731.