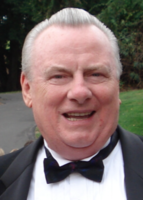 William J. Dwyer
William J. Dwyer, age 75 of Mystic Shores, Little Egg Harbor, N.J. passed away peacefully on March 29, 2018 at his home. He was born March 22, 1943 in Brooklyn, N.Y. to William P. Dwyer and Elizabeth J. Erickson Dwyer. Bill attended St. Michael's Grammar School, Alexander Hamilton High School and Long Island University. His siblings are Judith Rose, Elizabeth McLaughlin and Janet Maguire.
Bill was married to his cherished wife Maureen Corrigan for 48 years and they lived in Brooklyn, N.Y., Freeport, N.Y. and Massapequa N.Y. before moving to Little Egg Harbor 18 years ago. He was an active member and Trustee at St. Theresa's Parish. Bill was also a Past Grand Knight of Bellmore Council #3689 in Bellmore, N.Y.
Bill worked for the New York Telephone Company for over 30 years, starting as a lineman and retiring in a management position. In his early years, Bill loved to play softball, bowl and attend Ranger games at MSG. Later in life Bill took up golfing and that was one of his greatest pleasures. He also enjoyed luxury cars and his final ride was a red Alfa Romeo.
He will be missed by his family and friends: brother-in-laws Steve and Eddie, and many nieces and nephews: Rob, Catherine, Kelly, Robbie W, Stephen, Matt, Ian, Erin, Caroline, Christine, Robert, Patrick, Robbie, Brendan, Bridget, Kevin, Shannon, Owen, James and Nathan. Special mention also to his beloved dog Willie.
There will be a closed casket visitation on Tuesday, April 3rd, from 9 - 11 am at St Theresa Church, Little Egg Harbor, NJ. A funeral Mass will be celebrated Tuesday, April 3rd, at 11:00 am at St. Theresa Church 450 Radio Rd., Little Egg Harbor, NJ. Cremation is private.