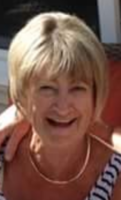 Margaret A. "Marge" Kaichek
Margaret A. Kaichek, 68, of Lanoka Harbor, NJ, passed away at home on Sunday March 18, 2018.
Talking about Marge in the past tense seems so strange. We will mourn her with our deepest of sorrows but she wouldn't want that. If you were lucky enough to know her then you were blessed to have a mother, grandmother, sister, aunt, and friend that was kind, caring, loving, and so much fun to be with. Marge was the toughest ball of energy who made the most of her life, even when she was ill battling cancer. Marge was so loved, and she loved us. She will be missed immensely.
Left to honor Marge and remember her love are her three sons Richard Sedlak and his wife Kathy, Michael Sedlak and his wife Kristen, and Edward Kaichek and his companion Leighann Woloshin. Her cherished grandchildren Katie, Kristina, and Jake Sedlak. Her siblings Joan Ferrance, Constance Tremmel, Raymond Hayducka, Robert Hayducka, Arthur Hayducka, and Claire Ramos. Her countless nieces and nephews for whom she was so proud of. Her friends and her co-workers from Shoprite that she worked at for over 30 years. Her dogs Coco and Yipper. Lastly, her angel on earth and her companion, Ken McGill, who was always by her side and made her happy. We are forever grateful. Marge was predeceased by her beloved husband Edward Kaichek, her parents John and Claire Hayducka, her brothers Michael Hayducka, John Hayducka Jr., and her sister Dorothy Santos. There will not be any services as per her request but her family will have a memorial in her honor in the near future.