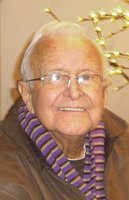 Preston R. "Buddy" Godschall
Preston Godschall, known to his friends and family as Buddy, passed away on Super Bowl Sunday, February 4, 2018 at Genesis Health Center at the age of 89.
Predeceased by wife Agnes, October 31, 1995.
He will be remembered by his surviving two daughters Donna Moczydlowski, Christine Johansen, son in laws Joseph Moczydlowski and John "Chris" Johansen, Grandson, Dustin Preston Moczydlowski, Granddaughter Jenna Roon, Great Granddaughter Amelia Roon, Granddaughter, Emily Anna Johansen, and Grandson, Randall Johansen, many nieces and nephews and many close friends.
Buddy was born in Ardmore, Pa and graduated from Lower Merion High School. His family summered in Beach Haven and he fell in love with it bringing his wife Agnes here to raise their family.
He served in the United States Army in World War II receiving:
World War II Victory Medal
Army of Occupation Medal Japan
Preston owned a Television repair shop after returning from the Army in Pa. before moving to LBI.
After moving to LBI permanently, he started a successful business, Godschall's Window & Cleaning Business, until his retirement where he continued his work for Long Beach Township as Sanitation Inspector until his passing.
Buddy served on the boards of numerous organizations, including Southern Regional Board of Education for over 35 years, he helped many of the youth receive scholarships. He also was a member of the Exchange Club even serving as president. As well as coaching Little League for many years.
Buddy and Agnes spent many years in south Florida in Hollywood where he enjoyed golfing as well as here in New Jersey. He also loved horse racing and going to Resorts.
Services will be at St Francis of Assisi, Brant Beach 4700 Long Beach Blvd. Brant Beach, NJ 08008 on February 9th 10:00 for a Gathering with a Memorial Mass at 11:00 am.
Buddy had such a love for Long Beach Township, donations may be made in his memory to the Long Beach Township Police Department PBA 373 or Beach Haven First Aid Squad.