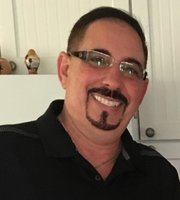 Eugene "Gene" Filippino
Eugene Filippino, 55 passed away on December 30, 2017 after a battle with cancer.
Gene was born on November 12, 1962. He was raised in Brooklyn, NY where he worked in the local 3 as an Electrician till he moved to Staten Island and joined the New York Stock Exchange. He later opened his own marketing firm, MVP Corp. Gene enjoyed playing his guitar, fishing and cooking. Gene was a natural musician, he even auditioned for KISS, He found solice and joy in his music. Rock-n-Roll was his life. Gene was a Chef. He enjoyed cooking and baking. Gene moved to New Jersey in 2016 and moved forward with his dream to open a bakery, Tasty Cheesecakes. Gene was active in Ocean Community Church and was part of the food ministry. Holidays were spent enjoying Gene's delicious homemade meals and cheesecakes with family and friends. He was pre-deased by his father, Carmello Filippino, mother, Santina Torre, brother, Frank Filippino. He is survived by "The Love of his Life", Alyson Cinquemani, son Michael Filippino, daughter Marissa Thomasen, Son Steven Thomasen, Son Richard Thomasen and many nieces, nephews, cousins and friends.