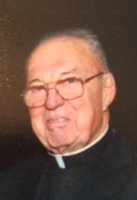 Father Joseph Sheehan
~~Father Joseph Sheehan passed away peacefully in the early evening of Sept 4, 2017. Fr. Joe was ordained as a Roman Catholic Priest in 1948, and recently celebrated 69 years of Priesthood.
He is predeceased by his brothers, William and Gerard and survived by his sister Rosemarie as well as many nieces and nephews, cousins and family, and will also be remembered by countless whom he ministered to over the course of his Priesthood.
During his life as a Priest he served at Immaculate Conception in Montclair NJ, Madonna Parish, Ft Lee NJ, St Agnes Parish, Clark NJ, Immaculate Heart of Mary in Maplewood NJ and St John the Apostle Parish in Linden, NJ. Fr. Joe also served in the US Army as a battlefield Chaplain in the Vietnam War with the rank of Captain administering aid and Last Rites to wounded soldiers.
Fr. Sheehan will long be remembered as a staunch defender of our Faith and someone for whom kindness and a quick wit came easily.
Visitation will be Friday 4-8 PM at Anderson & Campbell Funeral Home, 703 Main St. Toms River, NJ and Saturday 9-10 AM at St. Catharine Church, Seaside Park, NJ. A Mass of Christian Burial will be celebrated Saturday 10 am at St. Catharine Church, Seaside Park, NJ. Burial will follow at St. Joseph's Cemetery, Toms River, NJ.
In lieu of flowers that family asks that donations be made to benefit the victims of hurricane Harvey to:
Society of our Lady of the Most Holy Trinity (SOLT)
PO Box 152
Robstown, Texas 78380