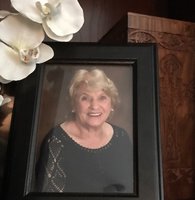 Gerd Christiansen
~My Loving Mom, Gerd Christiansen
Born July 19th, 1929
Passed away peacefully on August 9th 2017 and went to be with her Lord & Savior Jesus Christ.
She is survived by her daughter Carol and Carol's husband Helge, two grandchildren (Mark and wife Bridgot and Rachel and husband Thomas) and 5 great grandchildren, Paul, Troy, Brooke, Caleb and Ava. She is also survived by her sisters, Lily, Sonja, & Grethe-Lill and her brother Willy as well as other family in Kristiansand & Trondhiem, Norway. She was an inspiration to the entire family and all who knew her. She was loved by all and will be greatly missed but never forgotten. She will be laid to rest alongside her husband Paul, on the Island of Froya in Norway. Cremation was private.