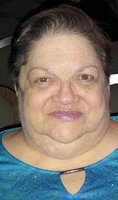 Helen E. Maxwell
~~Helen Maxwell, 68, died peacefully on Friday, July 7, surrounded by her loving family and friends.
She was a loving, genuine, caring woman who made a lasting impression on everyone she met. Her smile was contagious and her love knew no bounds to those who knew her. She was the greatest mother, wife, aunt, grandmother, great-grandmother and friend. She loved taking trips to Atlantic City and playing poker and canasta was something she very much enjoyed throughout her life.
Helen was born in Newark, but resided most of her life in Edison until 2005 when she moved to Toms River. She worked as a postal worker for a number of years as a mail sorter and then later as a school bus driver for George Dapper in Iselin.
Helen is survived by her loving and devoted daughter, Jennifer Maxwell of Toms River, her brother Drew Conneely and his wife Nancy of Colonia, another brother Brian Conneely of Phoenix, Arizona as well as many nieces and nephews and her lifelong friends of over 55 years Marie Jackowski of Toms River and Jessie Tewinkle of Sioux Falls, South Dakota. She is predeceased by her brother James Conneely and is survived by his wife Phyllis, of Cranford, NJ.
She is predeceased by her husband, Kenneth Maxwell , and is further survived by his children, Kenneth Maxwell Jr. of Kendall Park, Michael Maxwell and his wife Amy of Malden on Hudson, NY, Barbara Maxwell of Avenel, NJ, James Maxwell and his wife Julia of Saugerties, NY as well as many grandchildren and great-grandchildren.
There will be a memorial mass celebration 9:30 am Saturday, July 15th at St. Maximilian Kolbe Church, 130 St. Maximillian Lane, Toms River, NJ.

In lieu of flowers the family requests donations be made to The American Cancer Society or St. Judes Children Hospital in her honor to continue the fight to find a cure for cancer.